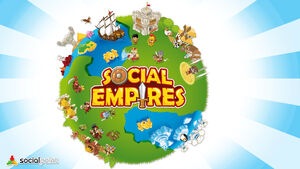 In social Empires dragons are some of the most powerful units a player can acquire.There are currently 4 methods of obtaning these beasts.
Breed them through the dragon breeding nest.
Enter the unit collection and buy a single dragon for 100 cash.
Some special offers include dragon i.e the golden,sayan and crystal dragons.
Buy a mystery box they are considerd rare so hope your lucky
mix two souls in the soul mixer and try to get a dragon.
Specials and Stats
Advantages and disadvantages
Known Glitches
Specials and Stats
Edit
Dragon usualy have some sort of specials for example the crystal dragon can fire a projectile over no limit of range and using another special can crystalize(freeze) an enemy while still able to inflict damge.All the dragons have a range of 8 or more,a HP of 1600 or above and an attack of 46 and above.Unlike all other units dragons do not have to be facing their targets to pull off a basic attack giving them an advantage over towers which can for some reason are unable to hit them like this.Stupid
Advantages and disadvantages
Edit
While dragons are amazingly powerful they can take huge amounts of damage and only take up 2 unit spaces most of the time they have one major flaw ressurection.Since the graveyard has been released units can be ressurected for half of what they would cost to spawn and dragons a deplete your hard earned resoucers quickly unless you are careful with them. This is rarely a problem due to the fact dragons usualy kill a foe before they get to them even then though most dragons have a special which damages and knocks all enemys that are usualy within a range of 2 UPS (units per square) and with a good speed can get some distance between them and a target without looking like a scaredy cat.
Known glitches
Edit
Here is a small list of probelms with dragons
Due to their size they will occasionally lag and not move or attack usualy resulting in messing up a plan or they receive damge from a foe they should have killed
Dragons will not fly over walls like draggies but have been known to randomly spawn if there is some lag
Type
Health
Attack Damage
Attack Range
Attack Delay
Unit Speed

small draggy

2000000000000000000000000000000000000000000000000000000000000000000000000000000000000000000000000000000000000000000000000000000

25
56
99
8
Common Social Empires Dragons
Edit
| Type | Health | Attack Damage | Attack Range | Attack Delay | Unit Speed |
| --- | --- | --- | --- | --- | --- |
| Furious Dragon | 1600 | 46 | 8 | 40 | 6 |
| Forest Extreme Dragon | 5500 | 138 | 8 | 35 | 6 |
| Volcano Dragon | 2100 | 55 | 8 | 35 | 6 |
| Furious Bull Dragon | 1950 | 50 | 9 | 35 | 6 |
| Solar Dragon | 3000 | 77 | 9 | 35 | 6 |
| Sky Bahamut Dragon | 4000 | 108 | 8 | 35 | 6 |
| Supreme Bahamut Dragon | 10,000 | 500 | 15 | 35 | 6 |
| Golden Dragon | | | | | 6 |
| Two-Headed Dragon | 2100 | | | | 6 |
| Epic Two-Headed Dragon | 2150 | | | | 6 |
| Black Dragon | 1750 | | | | 6 |
| Infernal Dragon | 1800 | 50 | 8 | 40 | 6 |
| Hell Abyss Dragon | 4600 | 112 | 8 | 35 | 6 |
| Heavy Dragon | | | | | 6 |
| Crystal Dragon | 1900 | 50 | 8 | 35 | 6 |
| Rubies Dragon | 1900 | 50  | 9 | 35 | 6 |
| Angelical Dragon | 2300 | | | | 6 |
| Paladin Bahamut Dragon | | | | | 6 |
| Star Dragon | 3200 | 80 | 9  | 35 | 6 |
| Galaxy Dragon | 3100 | 78 | 8 | 35 | 6 |
| Golden Bahamut Dragon | 2800 | | | | 6 |
| Black Bahamut Dragon | 2600 | 70 | 8 | 35 | 6 |
| Electric Bahamut Dragon | 2300 | | | | 6 |
| Golden Dynasty Dragon | 3250 | 81 | 9 | 35 | 6 |
| 2-Head Holydeath Dragon | 3200 | 102 | 9 | 35 | 6 |
| Supreme Black Dragon | | | | | 6 |
| Electric Extreme Dragon | 5000 | 120 | 8 | 35 | 6 |
| Green Extreme Dragon | | | | | 6 |
| Golden Extreme Dragon | 5100 | 125 | 8 | 35 | 6 |
| Fire Extreme Dragon | 5200 | 130 | 8 | 35 | 6 |
| Evil Orc Dragon | 1700 | 48 | 8 | 40 | 6 |
| Stormy Dragon | 1650 | 47 | 8 | 40 | 6 |
| Electric Dinasty Dragon | 2800 | 75 | 9 | 35 | 6 |
| 3-Head Dragon | 3150 | 79 | | | 6 |
| Rainbow Dragon | 2900 | 76 | 8 | 35 | 6 |
| Death Dragon | 2300 | | | | 6 |
| | |
| --- | --- |
| Space savage Dragon                              175 | |
Soul Extreme Dragon                                 190